Marfa 5.0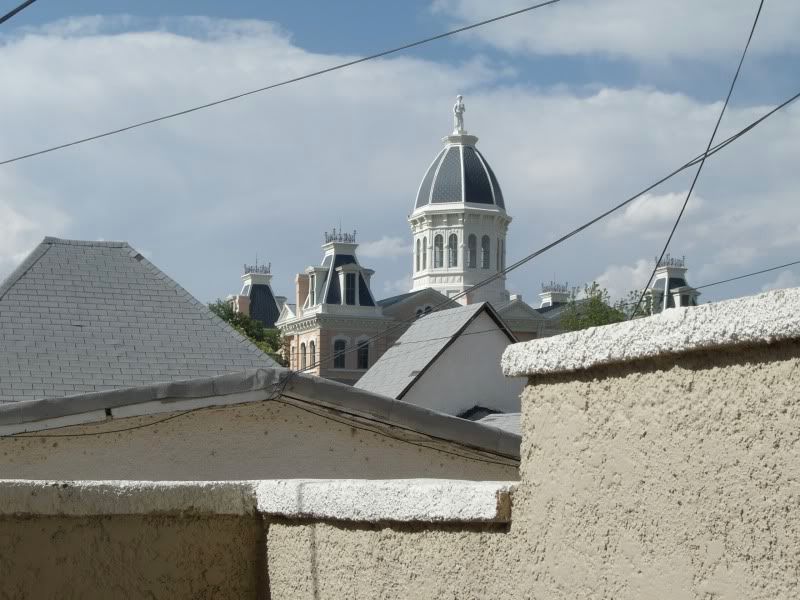 Gosh, it's been more than a month since I promised to write more frequently--alas! I will try to do better in the future! And I know I also promised a little post on Mifune and her ongoing battle with the Ugly Dolls, but that will have to wait. First, I'd like to bring you up-to-date on our latest foray into far west Texas--our fifth trip to Marfa.
As we traveled the now-familiar route from El Paso to Marfa, it dawned on us that we knew a lot of the landmarks... more than we would have expected! For example, I knew within two minutes prior to seeing the sign that we were approaching the immigration checkpoint near Sierra Blanca, and I even made a comment to Jeff along those lines. Then voila! There it was. And this time, for the first time, we were actually questioned as opposed to waved through--of course, this time I could not figure out how to lower the windows on the rental car... sheesh. But they bought our story that we were American citizens (heh), and on we went. Anyway, the landmarks kept coming: the pecan orchard that signaled we were getting close to the ruins of Lobo (a town sold and bought on ebay), the famous Prada Marfa installation north of Valentine, Valentine itself, the drug blimp... and then Marfa, where we checked into our usual digs at the Hotel el Paisano
and headed to
Maiya's
for a lovely dinner with Rachel and Chase. We ended the evening at the town's new watering hole (well, new to us since the last time we were in town),
Padre's.
Good bar--lots of room indoors and out, plus game tables, a great jukebox, and live music on many occasions.
Our stay in Marfa reinforced our opinion that it is a charmed place. Our adventures this visit included a jovial cocktail party thrown by the brothers who host the book review program on Marfa Public Radio. It was great to find yet more kindred spirits in the Chihuahuan Desert. We had excellent meals, both out on the town (or should I say "towns," as we fine dined in both Marfa and Alpine) and prepared by Rachel and Chase. They are good vegan cooks, and quite a few of the dishes they prepared were right out of their own garden. There are a number of good breakfast places in town, from the basic bacon and eggs and migas (including the superlative pecan waffles at the
Austin Street Cafe,
) but we really loved the breakfast at
Cochineal,
a restaurant that has opened since our last visit.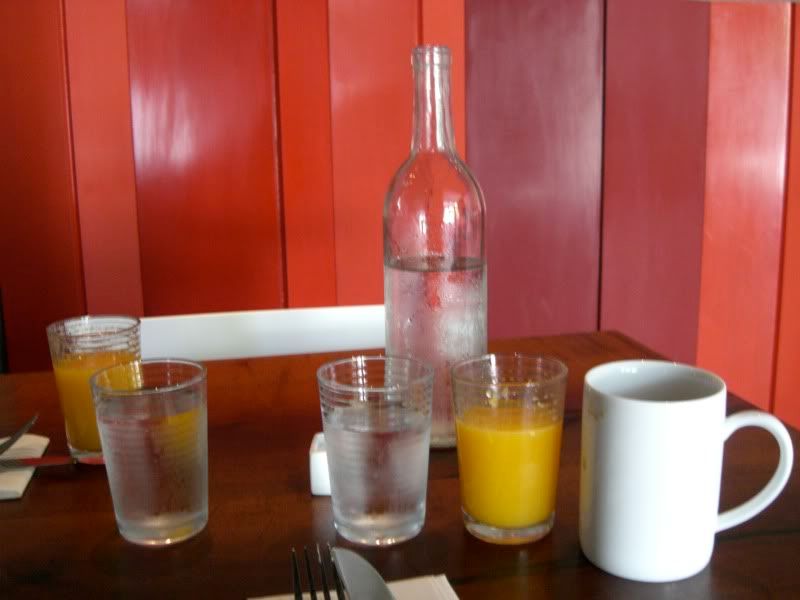 We witnessed several storms making their way across the vast expanse of desert toward and over the mountains,
but no rain fell on Marfa while we were there.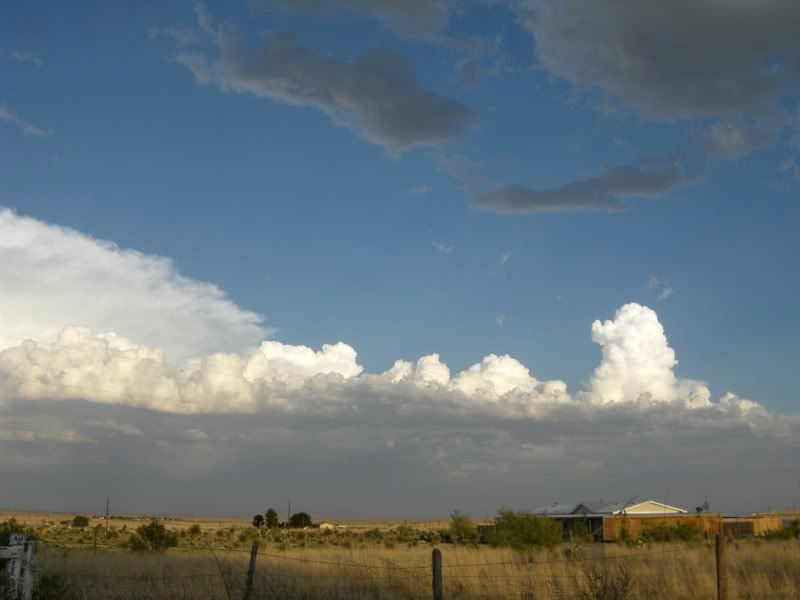 We went to Ft. Davis, where we browsed a used bookstore,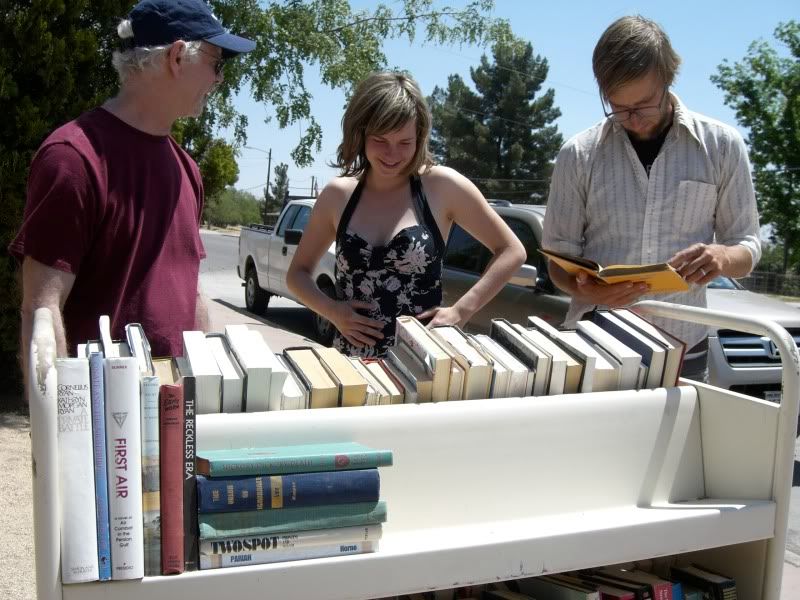 hunted treasure at an antique mall,
and observed this little guy, a street-wise horned lizard.
We drove a bit farther to Balmorhea, a town with a very productive spring that feeds the local state park
swimming pool,
and the run-off from the spring gathers in one of the most unexpected land- (or should I say water-) scapes in west Texas: Lake Balmorhea.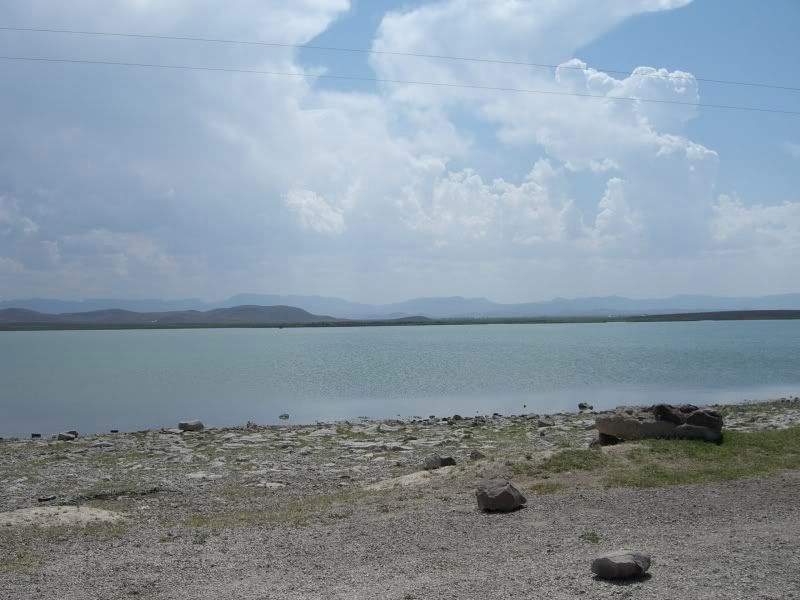 The town itself, although Rachel and Chase say they love the place and want to buy a vacation home there, is--to be most charitable--a diamond in the rough.
Seen better days, if you know what I mean. And this was downright scary: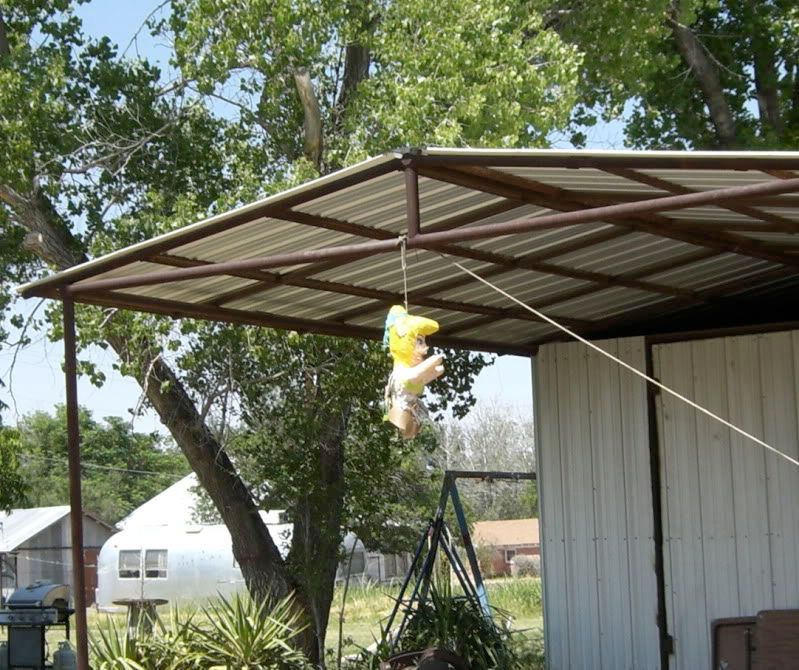 Back in Marfa, we had great milkshakes at the laundromat/ice cream stand. On Saturday night, we attended a reading by
Ibrahim Muhawi
at the Marfa Book Company, followed by a wind orchestra and choral concert--a benefit for Marfa Public Radio--at the local auditorium, followed by a launch party at Padres to celebrate the release of local artist, musician, and
Food Shark
maven
Adam Bork.
Somehow in the midst of all that, we managed to grab dinner at Cochineal... whew! I got pulled over by a cop in Alpine for exceeding the speed limit (got off with a warning--thanks, officer!), and that same night, I saw a meteor streak turquoise and gold across the broad western sky.
During almost every one of our sojourns in Marfa, either Jeff or I comment that we could live in that little town. After all, the more we visit, the more people we get to know--and they remember us when we return... But that comment is always the cue for the other of us to say "What? Are you kidding? It's TEXAS, fergodsake!" This time, the comment came when we were walking up Highland, facing the courthouse... and neither one of us said a word... That said, I don't think we're cut out for small-town life OR life as Texans. However... we do love to visit, Rachel and Chase are such fun to be with, and they make us feel so welcome that we get a tad melancholy when it's time to leave.
And so ends another trip to the high desert. We definitely are looking forward to next time!
Labels: Chase, cocktail parties, fine dining, horned lizards, Marfa, meteors, milk shakes, Rachel, treasure hunting