The Arts in Evanston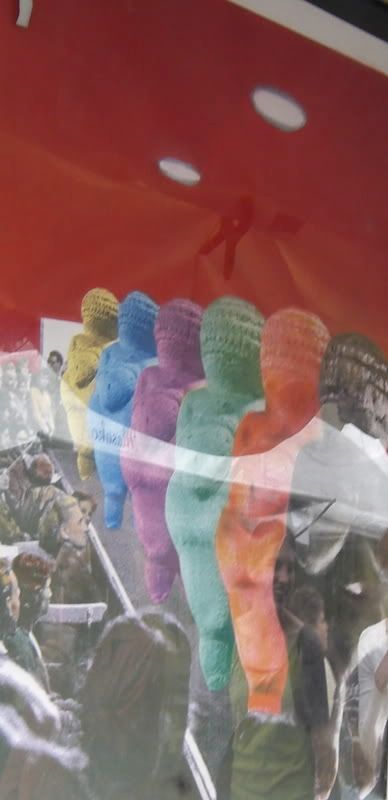 Last weekend was the Fountain Square Arts Festival in Evanston, our very near neighbor to the north (as in four doors and a cemetery north). The main downtown intersection of Sherman and Church is blocked off, and a host of artists show up to sell their work. It's a nice show (although I really do think that Waynesboro's Fall Foliage Festival Art Show has more variety and just as high quality--see posts for October 2006 for more info), but I really think they have too many photographers touting Kodachrome enlargements of Chicagoland points of interest. There was a lot of other stuff, too, but too many "local interest" photos on offer.
I snapped pictures of a couple of my favorite booths; you can see a detail of one of Aberant Art's works to the left, in all its Willendorfian splendor. This artist takes images from popular culture and art masterpieces and throws them together in amusing collages. Here's another one: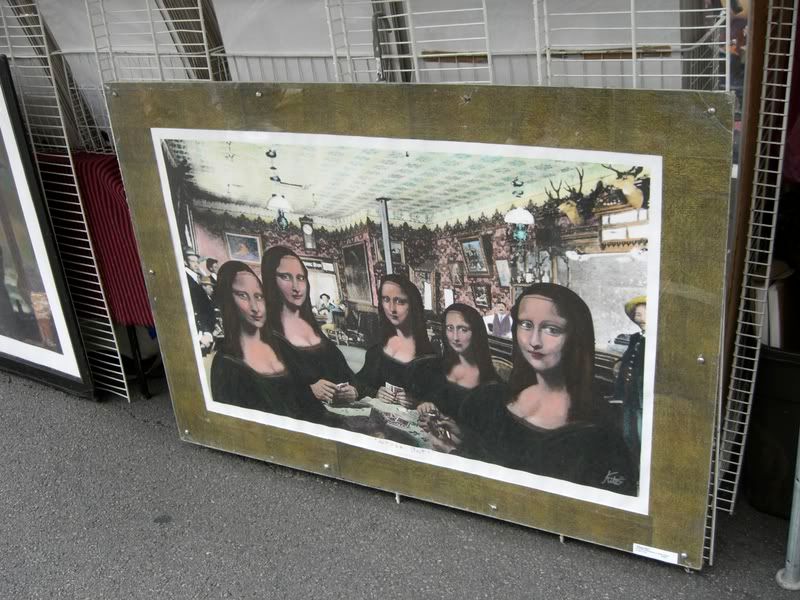 Some of the highlights of the show were the photographer with ultra-saturated photos of Chinese landscapes; the cool and rather creepy woodcuts of the late
Marvin Hill
(I bought one of his woodcut prints,
Trinity of the Sea,
several years ago at this self-same show); and the very cool
Weener Ware,
tiny pop culture images behind clear resin framed in bottle caps and made into jewelry. But the best in show for me were these whimisical objets d'art, fashioned from discarded "objets":
Aren't they cool?
Here are some more for your admiration:
And my favorite...
I just love the color; the flat, yet fluted "hat;" and, above all, the red shades. Alas, too much for my rather thin wallet.
And while we're on the subject of art and art shows, I never got around to posting a picture of the painting I bought at the Fall Foliage Festival show last October... and I promised to. Here it is, a lovely watercolor by Patsy Spilman: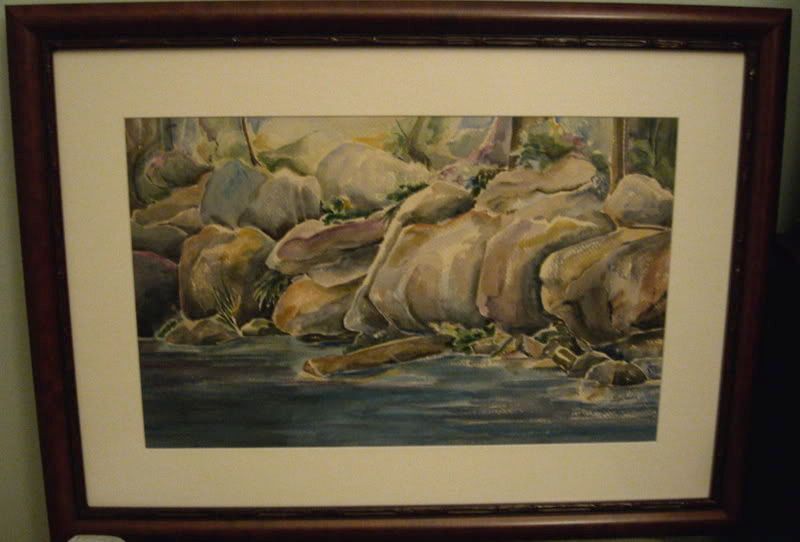 I love the colors, and it reminds me of the banks of the little brooks one finds in my faraway Blue Ridge Mountains. It now hangs in the dining room, opposite the china cabinet and over the sideboard.
Evanston has lots of great festivals over the summer--coming up are the Ethnic Arts Festival in July, which I hope we can make, and the Lakeshore Arts Festival in August, which we will not make this year because we'll be in Marfa for Rachel and Chase's big ass party. And, of course, there are the fireworks on July 4th--just a few days away!
I'll close this post with another picture of the found objets. Look! One of them is waving! Or rising...