Me, Me, Me!
First, an update. I'm pursuing all kinds of leads on the job front, some more promising than others. I might even stay put, but change departments if such an offer comes through. Keeping all options open, as they say... I'm reasonably hopeful that something will materialize.
At any rate, this little episode kind of blind-sided me, both professionally AND emotionally. I made a vow to myself lo, these fifteen-plus years ago that I would never again let anything or anyone except me determine who I was--I would never wrap my self-image in any particular person or any particular job. And when the announcement that they were dissolving my department came down last week, I was stunned to realize just how much of my self-worth I had invested in my position, and how bereft I felt at the thought that I could no longer claim that title. It was weird. In my worst moments, I was feeling like a fraud--I'm a good editor (although don't expect me to edit my own deathless prose... I have no eye for my own foibles), but I always worried that I was a bit laid back and type-B to be an effective manager. I had to remind myself rather vehemently that even without the title, I had the skill set, the experience, the track-record. And then I heard something through the grapevine that made me feel a bit better: that one of my former reports who had moved to another department said that I was the best manager she had ever worked for--that I was kind and patient, and that she tried hard to do good work for me, not because I demanded it, but because I expected it. Wow. Maybe the world can use more type-B managers...
At any rate, in keeping with the title of this post, I'm going to be completely self-centered and haughty and post three pictures of me from the 80s and 90s that I like a lot. They are of me in my habitat, if not at the time the photo was snapped, then at some time in the increasingly distant past.
In chronological order...
Here I am in about 1985 (note bright yellow Reebok hi-top Freestyles... SO mid-80s!) in the Japanese Tea Garden in Golden Gate Park. The gentleman is Charlie, who was the lead guitar player in the band my ex had fronted back in Syracuse. He came to visit us in San Francisco, and I went into full tour-guide mode. Man, was I ever the booster for that city! I just loved hiking the hills and strolling the parks, and I think I generally walked all my victims'--I mean, guests'--legs off! Just ask Jeff, whom I regaled with all my tours within the span of a few short days about a decade after this picture was taken. I still have that shirt, by the way, but it has seen better days. I love it, though, and so I keep it, threadbare as it is! The Reeboks? I no longer have those.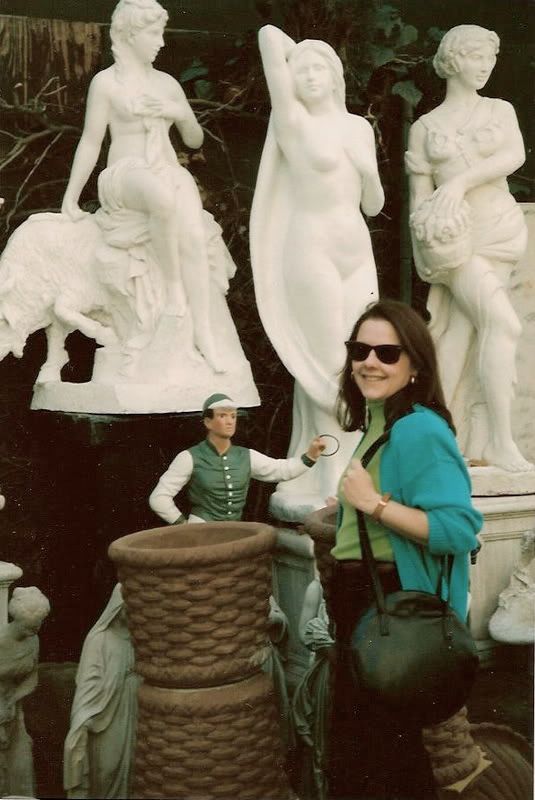 Who's that behind those Foster Grants? Why, it's me again. Although those are Rayban Wayfarers. This was taken at a statuary yard on Melrose in Hollywood, back around 1989 when I was splitting my time between San Francisco and LA. I'm not a fan of LA, as most of you know, but I like this photo. The cheesy milk-maid and Venus statues, the shy Virgin Mary, the white lawn jockey... I was letting my hair grow out, trying to affect that Veronica Lake peek-a-boo coif. I never felt that I fit into the whole Angelino look, but I believe I pulled it off in this snap.
And here I am in Boston, in 1990, six years after my brief residence there. I had given up trying to be the brunette Veronica Lake and had gotten a short, loosely waved bob instead. I was visiting friends, who took me to the bocce courts along the Charles River to show me how to play. The gentleman in the photo was one of the regulars at the court who took a shine to me and wanted to take over as my bocce coach! I was the only female on the courts, and given the attention I received I got the distinct impression that I was the only female who had ventured onto the courts in quite some time! Heh!
I look back at those pictures and I think how far I've come from there. I may have looked happy and self-assured but I was struggling. I didn't know who I was, really. I am much more comfortable in my own skin now than I was then... despite the fact that there is more of me for that skin to cover than there used to be. Even with the layoff, I'm happy with who I am. Not complacent. But happy to be me, where I am, with my true countertop (that's an in-joke). And that's quite a gift.
Thanks for indulging me! I promise I will post something a tad less self-absorbed next time! And maybe one day I'll see a recent picture of me that I like enough to post here. But don't hold your breath. Heh.
Labels: me