Two Weekends in Wisconsin (Part 1)
Okay, yes. It's been almost an entire month since I wrote in this. And I know I keep promising to do better, but... well. I'm a backslider of the highest (or perhaps that should be lowest?) order.
At any rate, earlier this month, I found myself in Wisconsin two weekends in a row! The first was a Saturday sojourn in Racine and environs, treasure hunting with Laurie and Mary. The second was Jeff's and my long weekend getaway to Madison by way of the incomparable House on the Rock. This entry will deal with treasure hunting... the next one (which I promise you won't have to wait another month for) will deal--for the most part--with what I've come to think of as the nation's quintessential house of horrors.
But first, treasure hunting!
Here's the way it works: Laurie and I take the train from Chicago to Kenosha (only $5.00 round trip on a weekend!), where Mary, who lives in a grand old house and work in progress in Racine, picks us up. From there, we visit some of the local antique malls and such... but our main destination is always the School Days Antique Mall in Sturtevant. It is a veritable TROVE of treasure, as you will see...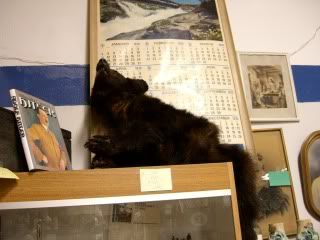 Just look at what greeted us as we entered the main room, which used to be the gym of the old school in which the mall is housed. Yes. It's a stuffed bear cub, horrified at a book about Hitler.
This booth, near the entrance to the gym, is always densely but artfully arranged by themes. This is a garden theme. It's also way overpriced. I've coveted many a treasure from this booth, but alas, I have never treasured any of it enough to pay the asking price.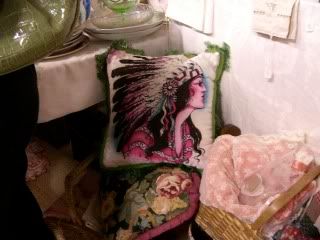 Most of the booths have a more reasonable pricing policy, yet even so, sometimes it is hard to justify paying the prices asked. The souvenir pillow above, for example. I believe it was in the neighborhood of $20 or so. Not exorbitant, but not cheap either. I still think I should have sprung for it, but the thought of schlepping it along with my other treasures back on the train made me snap the photo and keep only the memory of it.
Here's another item I decided to forego: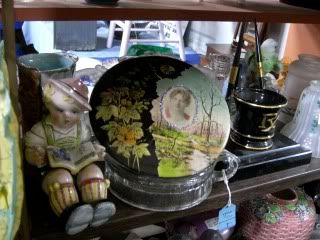 I love the decorative foliage, but what really attracted me (magpie that I am) was the ring of lavender glitter around the photo. But it was really quite too expensive--in the $30s, I think. Too dear for my blood, even though it sparkled.
One thing I love about treasure hunting (aside from treasure finding) is the inevitability of odd tableaux created when a bunch of old stuff is put on display. Not arranged with a theme or motif in mind, but just kind of jumbled together, as here: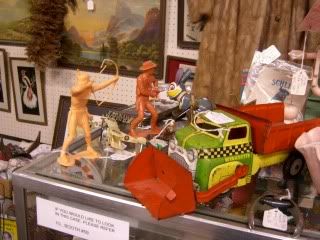 The Indian is aiming at the cowboy, who in turn has the tin bunny in his sights...
Or here,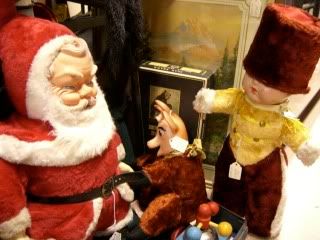 where Rudolf referees a cage match between Santa and a plush soldier.
This one is a tad more disturbing:
Naked doll parfait.
The theme of this treasure hunt shaped up to be all about creepy ceramics, however. Just take a look: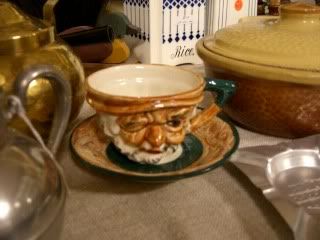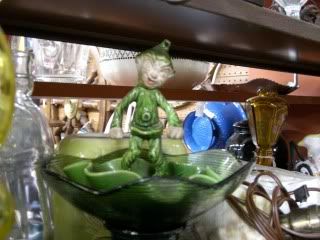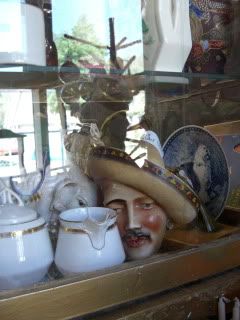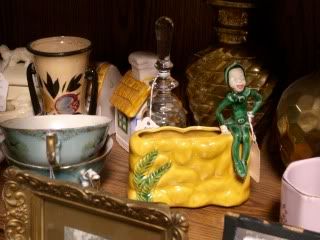 I actually brought the one directly above home with me--it now graces our mantel.
I came close to bringing this little number home: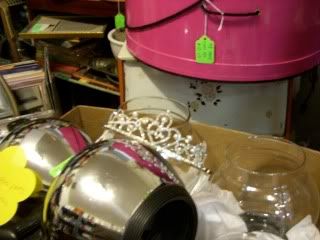 I am very partial to tiaras (although I have absolutely nowhere to go where it would be appropriate to wear one). I wore this one around the mall for a while and then put it back on the pile where I found it, lagniappe for another magpie.
But I tried VERY, VERY hard to justify bringing THESE treasures home:
Oh. My. God. Sparkly, multicolored, pointy-toed shoes. Made. For. Me. But no. These were made for Cinderella, and I was but an oafish stepsister who could not cram my toes in them, much less make any real attempt to claim that they fit. And I do NOT have big feet! Wah! I was disconsolate!
So what other treasures beside the creepy pixie planter did I bring home with me? Well, I bought several kitschy souvenir plates (I collect them, and one day I will build a plate rail around the dining room on which to display them), a candy dish in my crystal pattern (Cambridge Caprice--vintage glass and crystal), and the most amazing find: a 1930s needlework book with instructions for crocheted hats and bags. Not winter toques or stocking caps or berets, either, but stylish little confections of that era. I'm crocheting the "jockey cap" now--if it works out who knows? I could have a little sideline going in a few months... IF it works out!
Stay tuned--I promise, promise, PROMISE that I will regale you with more Wisconsin wonder in a few days!
Labels: crocheting, shiny things, skeery pixies, sparkly things, treasure hunting, Wisconsin