House on the Rock, Part the Fifth
Now... just what was the source of those shimmering lights you glimpsed at the end of part the fourth? Why, none other than the pulsating, whirling heart of House on the Rock, the World's Largest Carousel!
Now, I don't know if it really IS the largest carousel in the world, but House on the Rock claims that it is. And it doesn't contain one, single horse. Nope... the horses are there on the premises, just not on the carousel or in the room that houses it.
The Carousel Room is not for the timid. It is loud, what with the carousel's music blaring from all corners. The carousel spins so quickly that it's hard to capture its splendor up close.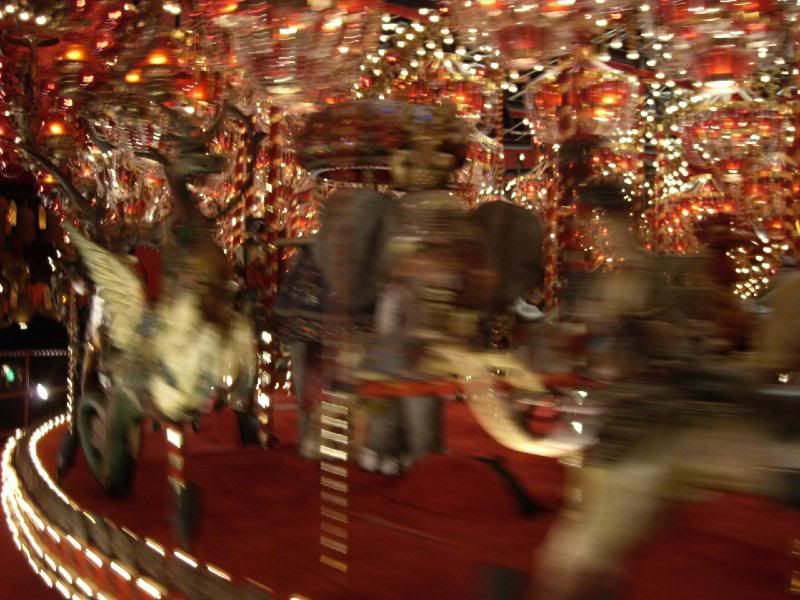 With a flash, though, the nature of the creatures that ARE featured on the carousel becomes apparent.
Hubba, hubba!
Yes, indeed. Mr Jordan had a thing about nude and semi-nude ladies--even ones who hide their winsome faces underneath elaborate Valkyrie helmets.
The carousel figures are not the only comely attractions in this room. Half-clad nymphets and buxom winged angels hang from the ceiling. Here is one of the more bizarre manikins--note the fox mask in hand.
Despite the swirling splendor that surrounds you, it is difficult to withstand the sheer sensory overload of the Carousel Room for very long. You pass through a doorway that is, literally, a monster's maw, and you enter the Organ Room.
If the carousel is the heart of House on the Rock, the dark, moody Organ Room is its dark, moody soul. The room takes its name from the huge organ consoles on display there--this one, with its built-in TV monitors, is only one of three such behemoths inhabiting the room.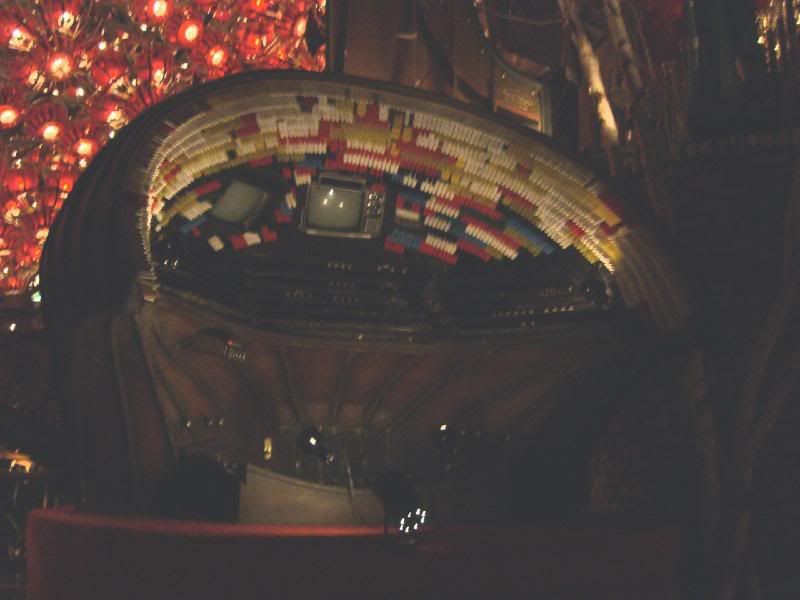 There is more to the Organ Room than its consoles, though. As you can see, after the eye-searing brilliance of the Carousel Room, the Organ Room is dark--so dark that it's as if you have been plunged into a Midsummer Night's Dream gone very badly awry. What illumination does filter through the room comes mostly from a huge red chandelier that dominates the center of the ceiling. You can see it here, behind the lady and her lion:
There are catwalks throughout the room, populated by manikins that you would swear came right out of Diagon Alley or Hogsmeade, except that they have been there since long before Jo Rowling put pen to paper, and they sport the dust to prove it.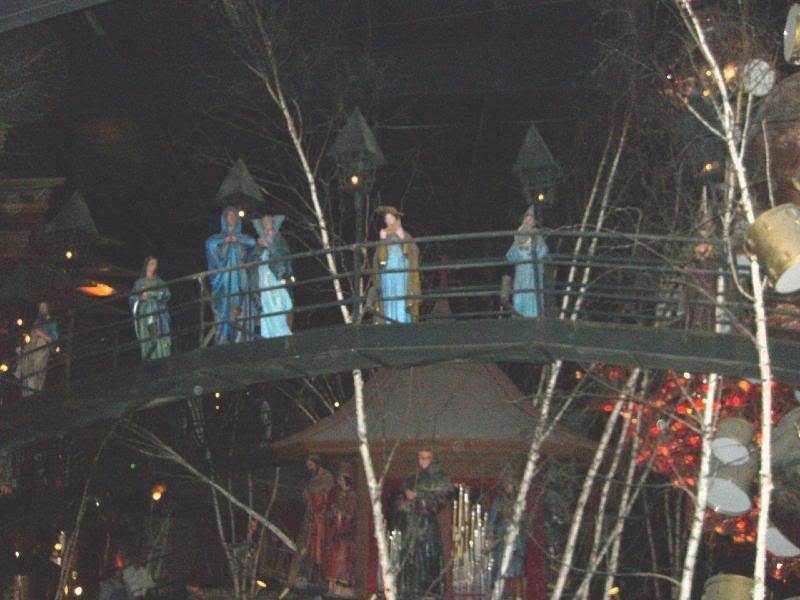 Oh, and did I mention the birch trees that would sway in the wind all over the Organ Room if, indeed, there were a breeze blowing through it?
And, lest you think the room not QUITE spooky enough, I'm sure the collection of gigantic figural beer steins will dissuade your bravado.
Next up, doll houses, circus dioramas, and other general craziness.
Labels: creepy carousels, House on the Rock, winged nymphets, Wisconsin