O Joy! or, Proof Positive that I Am a Nerd
Today, I had one of those bouts of complete elation that come only rarely in a lifetime--something I thought was lost to me forever came back into my hands.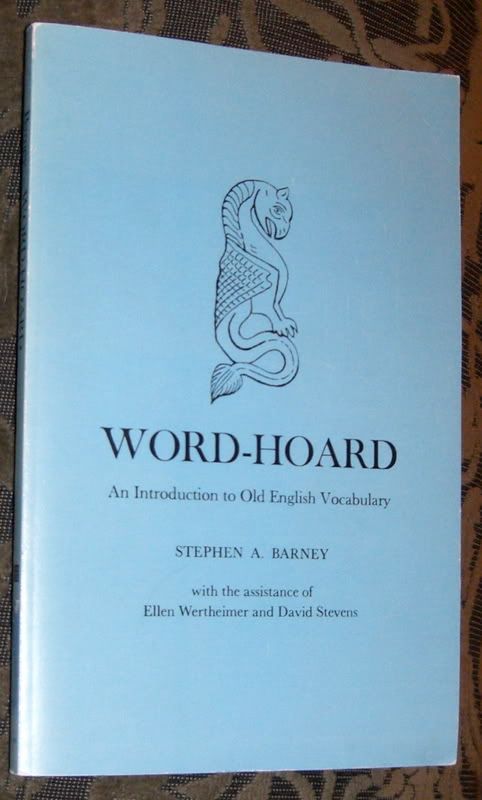 This book was one of the textbooks for the Anglo-Saxon class I took my first semester of grad school. I was an aspiring medievalist, and a class where I was required to read "Caedmon's Hymn" and
Beowulf
in their original languages was pretty heady stuff. And not easy. This book was a godsend. Not only does it contain hundreds of basic Anglo-Saxon words, but it explains in very clear terms how these words can be combined, so that once you get the hang of it, you're all set with your hwaets, your weards, and your hlaefdiges. And it was only $2.95! A college textbook for $2.95. Even in the lang, lang ago, this was quite a bargain.
Now, I did not become a medievalist. I grew tired of going to school and allowed myself to be seduced by the siren song of rock and roll. I traded my eths, my thorns, my ashes, my wynns, and my yoghs (insider lingo for the Anglo-Saxon in the know) for miniskirts, danskin tights, and a short-scale Rickenbacker 325. I finished my M.A. but didn't pursue a Ph.D. I played in several bands. I moved from Syracuse (where I bought the book) to Boston and then to San Francisco. But through it all,
Word-Hoard
and my other favorite textbooks went with me.
Until the relationship on which I had embarked back in Syracuse--a relationship that had endured two moves and almost a dozen years--fell apart. And I was a wreck. A wreck who feared she could be a broken wreck. And so I sold about half my books. Including
Word-Hoard.
When the cloud of despair and anxiety started to lift several months later and I realized I was not going to be broke--well, not quite yet--I regretted selling that book, deeply. I went back to the store I had sold it to to try to buy it back, but it was no longer on the shelf.
And then...this morning Jeff walked into my office at work and said "I found this in the pile of books they're giving away up by the old dictionary department, and I thought you would like it." Then he handed me
Word-Hoard,
and my heart soared! I can't even describe the feeling--that I had gotten a long lost, long-forgotten piece of myself back again. A reunion. A healing. I think my reaction both shocked and delighted him. I know I was shocked and delighted!
I know this reaction is rather silly and overwrought, but damn if doesn't make me happy!! Thanks, Jeff!
Labels: books