Prism-wrapped Planes and Such
A while back now, in late August, I flew down to Waynesboro to visit my mom and to witness first-hand the unveiling of the spiffy new marquee at the venerable Wayne Theater.
In order to avoid spending Friday in transit, I arranged an early-ish Thursday evening flight out of O'Hare to Richmond. It worked well. I got to Richmond around 9:30, rented a car, and by 11:00 I was at the old homestead. By far the best reward for this strategy, though, was something I glimpsed from the plane: As the sun was setting and it's rays grew long, I gazed out the window to see the shadow of the plane passing along a wall of clouds. And surrounding the shadow was a full spectrum--as if we were flying within a prism. Of course, my camera was in my computer bag, which was in the overhead because the plane was too small for it to fit under my seat. Sigh. You'll just have to take my word for it and envision it yourself!
Oddly enough, the spectrum theme was repeated the next afternoon when, only an hour or so before the marquee was scheduled to be unleashed on the world, a sudden downpour produced one of the nicest rainbows I've seen in many a year.
By the way, for those in the know (or who want to be), that photo was snapped from Linden. The house in the foreground used to be where my primary-school friend Ginny used to live. Ginny had one of those skeery kit-kat clocks with the moving eyes and tail. And her parents always stocked cases of Mountain Dew in the fridge. Lot's of good memories of sleep-overs and dancing to the latest Beatles single with that house...
At any rate, the rain subsided in plenty of time for the downtown festivities to begin.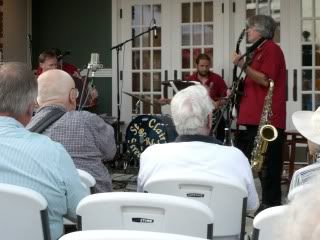 There was music, an installment of a serial radio play, stand-up comedy, more music...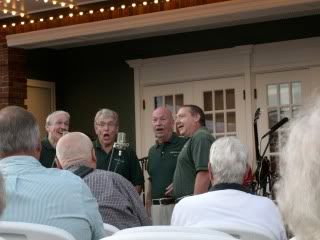 A moment of utter serendipity occurred when a folk-singer was warbling about hearing that old train whistle that reminded him of home, and the train that just happened to be passing through town as it does every evening sounded its whistle loud and long.
Young and old attended the festivities--everyone had a great time!
And once the sun set and the program drew to a close,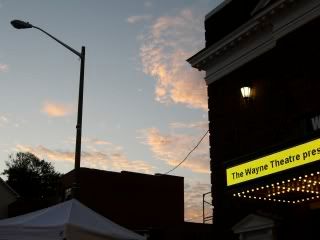 the band kept on playing so those who felt so moved could groove to their hearts' content!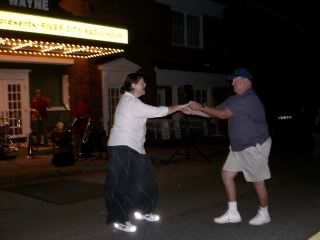 Please note that Barb is prepared to move and groove in safety through the night with those reflecto shoes! Heh!
In the time that's elapsed since the August visit and now, I have yet another trip to the Big W under my belt... so stay tuned for more Waynesboro hijinks soon!
Labels: rainbows, waynesboro